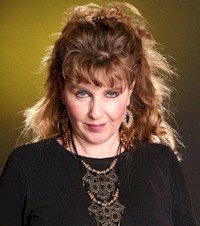 Ariellah has been performing, and studying belly dance since 1977. At age 6 music became part of her daily life until the age of 18 when school and work were than put at the forefront. After high school she found a local belly dance school and found her love of Middle-Eastern dance, music and classes. Ariellah studied with Sahbra "Sahbra Belly Dance and Fitness School" for many years until she closed her studio due to health reasons. Sahbra was a big influence on Ariellah's career and with her mentoring and coaching Ariellah began performing professionally and teaching.
"Ariellah dances like she were floating on sand, her moves soft and sensual with a high energy that keeps the audience captivated and wanting more. She has a wonderful interactive show presence that keeps our audiences interested." Jamal & Hedi, Olive Grove Restaurant – Calgary.
Ariellah continues to study and do workshops. In September 2005 and 2008 went to Egypt and took classes with Raqia Hassan and Aida Nour. "That was just so exciting and I felt very privileged to study with these two very wonderful artists…and how wonderful of them to SHARE it with me". I'm always looking to strive for better and taking workshops are where one can gain information and knowledge. Workshops include teachers such as Jalilah, Sahra Saaed, Yousry Sharif and Nourhan Sharif, Hadia, and Denise Enan, Fareed Salema and more.
Ariellah has been known to "Dance Like An Egyptian" – her interpretation of the music and the rhythms are extraordinary. She has a large repertoire of dance styles – from Modern Egyptian, Baladi – Folkloric, Fusion and Greek. "She performed as a solo artist and wore 3 layers demonstrating ethnic to modern, we loved it" Calgary Woman's Group.
Ariellah loves sharing this beautiful dance with her audience and most of all her students.  And throughout the year she works with her students in the hopes that they are ready to be featured in "Night at the Oasis" Student Show – which has been met with great success since 1999 where she features her latest choreographies and displays of Middle-Eastern dances – everything from folkloric style to fusion and modern works.  Ariellah is more than an expert – she is an Artist – sharing it with her students, family and friends.