WORKSHOP with MARIE HABIB – MARCH 28, 2020
Hi Lovely's   Let's support our LOCAL DANCER – MARIE HABIB from EDMONTON   You know who I mean – the vivacious, fun loving beauty with a GREAT SMILE…   She'll be coming  MARCH 28th, 2020   
HERE's the plan:   REGISTER before  FEB 28th    $100   AFTER  that date it goes to $150  BRING your OWN LUNCH (sorry I can't afford to feed you.   Bring your Water BOTTLES too.   Send e:transfer to lotusbellydance@shaw.ca ///  Question:  What City do we LIVE?   ANSWER:  Calgary  (please use only this because some of you forget to send me an email telling the password)
WHERE:    DAYS INN WYDNHAM HOTEL 3828 – Macleod TRAIL SOUTH  (you know the place … That's where we danced with Jahorah .. Ashley and Mohammed)
TIME:   Arrive early  – you can do a bit of chatting / and maybe some shopping – I'm bringing my STUFF to SELL  (I'll be the only VENDOR sorry…. )   SATURDAY MARCH 28, 2020    – BAZAAR 9:15  Open     WORKSHOP  10 a.m. – 12 Noon /Learn SHAABIE LUNCH  BREAK WORKSHOP  1 PM to 3 PM    TECHNIQUE ONLY Randa Style FUN STUFF.
EVENING SHOW   " SHIMMY THE NIGHT AWAY V" (Same venue as the workshop)   DAYS INN WYNDHAM HOTEL  3828 – Macleod TRAIL SOUTH     Ladies those that wish to DANCE in the SHOW  – You and your students must be attending the workshop  … Or part of the workshop 1/2 day is fine.  But important that those who dance get priority to perform. Show tickets are $30   / Performers  are FREE    It will be table seating arrangement / I will have nibblies on the tables – I'm hoping that it will be Middle-Eastern Tasters  (which the TICKET helps pay for)    Please help sell TICKETS …
I  cannot do this without an audience.     HOTEL will also take bookings for the EVENT if you are OUT OF TOWN GUESTS….  I will block some ROOMS.   (I'm making it a MINI-STAY-CATION…..)   Let's show support for one another, and this dance community ladies …. I love to see most of you there with your SMILES, and your HIPS and your ENERGY.  And MARIE will LOVE IT TOO.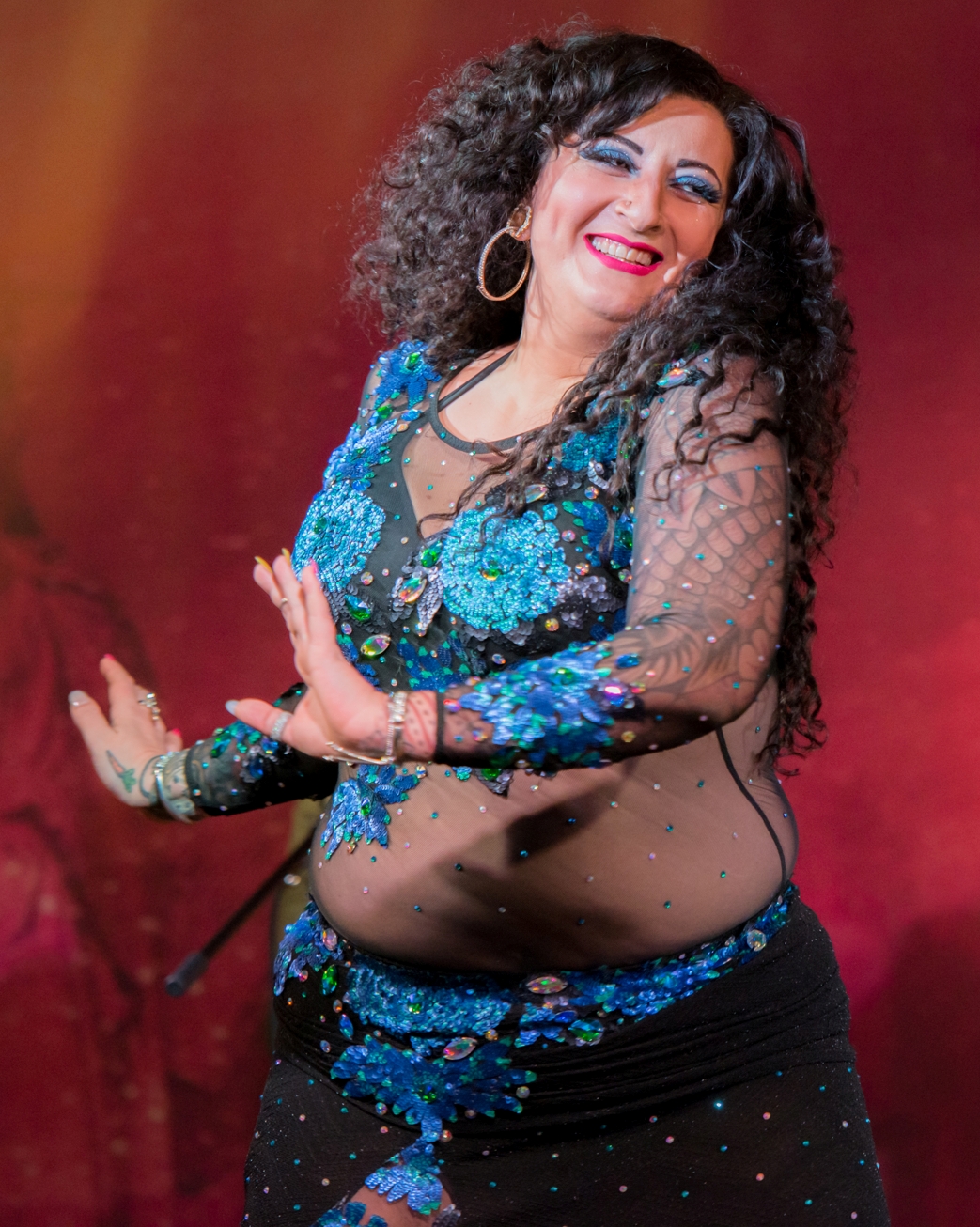 COMING in 2021 ….
LOTUS BELLYDANCE PRESENTS –  BADIA STAR FROM TORONTO  NEXT APRIL 2021

EARLY BIRD TILL JAN 15 / $250   E:TRANSFER TO lotusbellydance@shaw.ca
REGULAR FEE $275  JAN 16 – FEB 15  /  FEB 16  FEE $300   ONE DAY WORKSHOP $150
FEE INCLUDES A LIGHT LUNCH …   YOU'RE WELCOME.

SATURDAY March 28, 2020
Workshop #1 "Yoga For Belly Dancers"
9:30 – 10:30 Drawing from her lifelong practice and teaching experience of Hatha yoga, Badia will share her secrets for a long and healthy dance career. Instruction will include a yoga routine created especially for the needs of belly dancers. Employing awareness of proper alignment this practice will include methods for improving posture, flexibility, strength, relieving stress, avoiding injuries and back pain. No yoga experience is necessary. A printed out line for this practice will be available upon request.
Workshop #2 – "Review of Cymbals"
10:30-12:00 Don't be afraid of dancing with cymbals! Learn how to wear and use your finger cymbals properly and when to use them. Badia will teach drills using comprehensive progression of basic cymbal patterns and technique to a more intermediate/advance level combined with various dance rhythms and movements. Bring your brass or wooden finger cymbals
Workshop #3 – "Perfect Shimmies"
1:00 – 3:30 Would you like to shimmy like Fifi Abdo? Come and learn the secrets to perfectly loose relaxed shimmies in your hips, shoulders and chest. Badia is a master of breaking down the mechanics of a perfect shimmy. She will teach shimmy drills that will include transfer of weight and direction, layering and travelling steps.
SUNDAY March 29, 2020
Workshop # 4 – "Vintage Oriental Choreo W/Cymbals" 9:30 – 12:00 Workshop #2 is a prerequisite for this workshop. Badia will teach a beautiful vintage style choreography at the intermediate level using finger cymbals throughout the entire dance. Advance dancers may use this choreography as a template and embellish it to suit their personal style and level of dance. This choreography is not a "Megence", no veil is required.
Workshop #5 – "Baladi Blast – Taksim Choreography"
1:00 – 3:30 Badia will share her delicious, playful Egyptian Baladi Taksim choreography executed in the typical 80's style. It will include sultry slower heavy movements, progressing into quicker travelling steps and shimmies all spiked with the yummy baladi accents that we all love.
Let us tell you briefly about our Guest Star…..
Toronto-based dancer BADIA STAR is one of CANADA's best known belly dancers to be making a comeback to the Canadian scene. She has been studying extensively in both Folkloric and Oriental Dance since 1980's. Her many accomplishments regularly took her to Cairo, BC, and Toronto focusing on studying with today's world's finest instructors.
ENHANCE YOUR DANCE With over 40 years of international experience BADIA STAR is a multi-faceted performer and teacher of Raks Sharqi.
Her dance style is a combination of 1970's American Cabaret fluidity and isolation work, with a strong emphasis on 1980's Egyptian night club styles including strong rhythmic accents and sustained shimmies. BADIA STAR has trained extensively with the renown Egyptian choreographer, Ibrahim Akef during her four years of performance in Cairo in Night Clubs and stage.
BADIA STAR is a master of teaching multi-levelled classes and breaking down comprehensive technique for smooth flowing movement and feminine charm. BADIA STAR offers technique and combo drills in a variety of regional styles as well as choreography that can be used by groups or can be elaborated and adorned by the experienced dancer. BADIA STAR encourages dancers to explore individual expression, helping dancers to find joy and freedom to create personal style and explore improvisation with confidence.
You are invited and sure to learn something new and be challenged. Come and have a great workout and most of all get inspired
CLASSES START WEEK OF JAN 20TH  / WORKSHOP MAR 28-29 WITH BADIA STAR REGISTRATION STARTS TODAY.